How does IBI Start work?
The IBI Start version is based on the Scan – Plan – Go – Confirm method.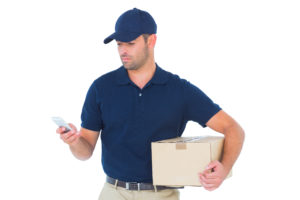 Scan
Scan address labels with the camera, insert the addresses manually by typing or or through speech recognition.
IBI scans labels with various kinds of printed fonts.
IBI does

not

scan barcodes.
Plan
Choose for car or bicycle delivery.
It is possible to add a comment line for each address.
Start navigating by clicking on "navigate".
Navigation of the optimal route in IBI, will be done by your favourite navigation app on your smartphone.
Go
Click on the address and follow the route on your navigation app.
While on the route, you are free to add addresses or select an point as the next to visit.
IBI will recalculate the optimal sequence for delivering during your route.
Each visited address can be marked as "finished" and the route will start to the next stop.
IBI can do a check on the right location with geofencing and add a timestamp on the delivery.
You can add an comment to each address (for example: "not at home" or "package delivered at the neighbours").
Get to know IBI Start
See the specifications and compare the IBI pricing or download the app and test IBI for free!