IBI wants to create more awareness on (not only) faster and reliable delivering, but also on environmentally friendly delivering. Given the increase in the number of delivery services and the times of delivering, the delivery industry could reduce CO2 emissions with IBI. A few organizations partnered up with us.
Get to know our partners
Green Speed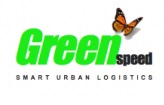 is a bicycle delivery service that delivers with state-of-the-art 'cargobikes'. There is no CO₂ emission of particulate matter, because the cyclist uses the pedals by himself. Green Speed strives to deliver high quality delivery and therefore the organization uses IBI. Now, delivery is fast, reliable and durable, because of the IBI app. "We're gaining 25% time with the IBI app" (Green Speed, 2016).

Cyclefix is the developer and supplier of the Donke-bike. It is the e-bike for bicycle delivery services (delivery for meals, small packages and mail). The combination of IBI and the Donke-bike, harmfull emissions are being reduced, traffic safety is improved, delivery is now more efficiently. This all contributes to a better prosperity and well-being in the world.
Are you interested in working together with IBI? In that case, contact the IBI team.