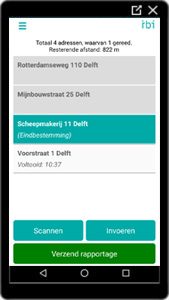 Save time when delivering packages by using IBI. IBI helps you to plan the best route to multiple addresses, by bicycle or car. IBI even takes traffic into account when delivering by car.
There are multiple versions of IBI, IBI Start and IBI Go. All versions make sure you get the optimal (fast and efficient) route along multiple stops. It depends what license suits you best based on how many address you have to visit. With IBI Start you can sorting and delivering to 45 addresses. With IBI Go you can route to a maximum of 110 stops.
Deliver faster, better and assured with IBI!
Save extra time
Save extra time by using speech recognition / microphone in your IBI app.