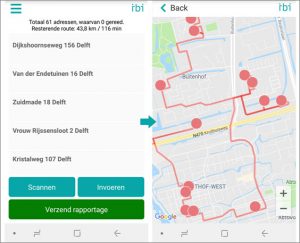 With IBI release 1.9.9, users of IBI Go can get a route overview on a map. Add your addresses first by typing, scan or speach recognition). After sorting the address list, go to the menu and select "View on map" for an overview of the total route, with stops and numbering.
The only smartphone route optimizer
Get IBI Go for € 14,99 per month or € 149,99 per annum and save time by getting the optimal route. IBI works stand-alone on your smartphone and is the only app that can optimize routes for up to almost 100 addresses. Share the workload amongst colleagues by transferring addresses with IBI Transfer.
If you do not need all the functionality, try IBI Start. You still have the power to optimize the route for up to 50 stops.